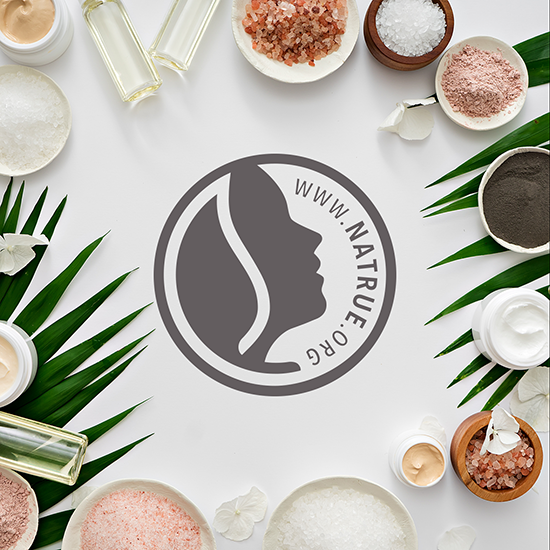 Certified natural cosmetics
NaTrue is an international non-profit organization whose mission is to promote and protect natural and organic cosmetics worldwide.
Cosmetics manufacturing companies can be certified by NaTrue. This certification is a holistic process in which the products that are to bear the NaTrue label and the entire company are subject to an audit.
For example, it is not possible to have only 1 product certified. At least 75% of a brand's products must be NaTrue certified for the individual product to bear the seal.
Basically, all NaTrue certified products are:
free from genetic modification
free of silicones
free of artificial colors
free of parabolas
free of microplastics
free from synthetic fragrances
free of mineral oil
Cruelty-free (also legally according to the Cosmetic Products Regulation (Regulation (EC) No. 1223/2009))
There are also special requirements for the raw materials that may be used. The focus of NaTrue certified products is on the use of natural and untreated raw materials. Only certain processes may be used when processing raw materials in order to leave the raw material natural.

For example, synthetic substances that do not occur in nature are generally prohibited. There is a list of approved synthetically produced raw materials, but it is limited to pigments (coloring particles), minerals and preservatives. These substances cannot be produced naturally with sufficient purity or serve to protect consumers.

NaTrue values ​​and ethics prohibit animal testing. This goes hand in hand with the legal regulation in the Cosmetic Products Regulation (Regulation (EC) No. 1223/2009).

Attention is also paid to the sustainability of products. Cosmetic packaging should be offered in packaging sizes that allow for multiple use (except for product samples) and the packaging as a whole should be reduced to a minimum. Where possible, reusable materials should be used, for example glass and recyclable plastic (PET).