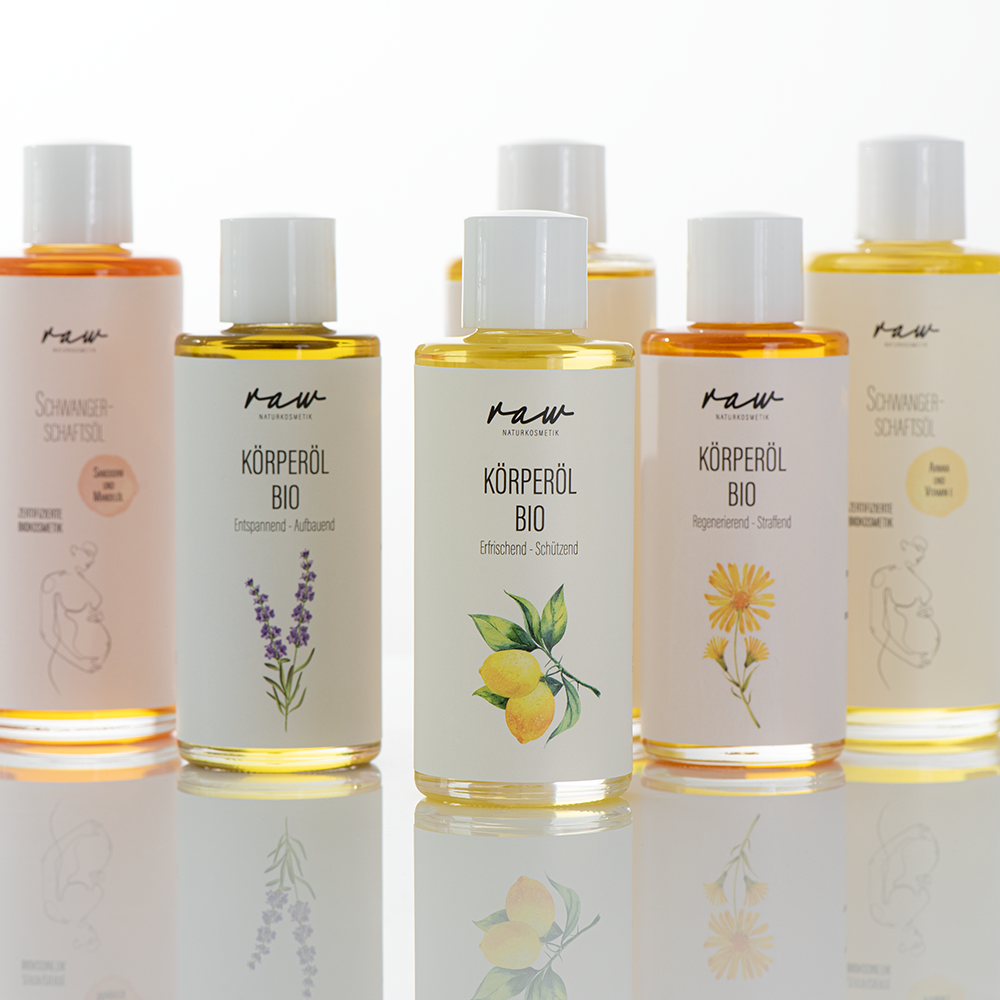 Which body oil is best for me?
Which body oil is best for me?
Every skin is different and has different requirements for care products. Basically, you can pay attention to natural ingredients when choosing your body oil. Vegetable oils, preferably organic, are the best thing you can do for your skin. This replenishes the fat deposits in the skin layer and strengthens the skin barrier. Moisture remains in the skin and the complexion can shine.

If you like scented oils, make sure to use essential oils instead of perfume oils; these are more naturally produced and therefore put fewer chemicals on your skin.

If you are allergic to essential oils, an unscented oil is probably your best choice. Here you can also consult the manufacturer's recommendation. Is the body oil tested for normal or sensitive skin and what are the test results?
Now let's take a closer look at your skin's needs.
Which body oil for mature skin?

The older the skin gets, the more care it needs. Therefore, intensive care is exactly the right thing for mature skin. Skin-related fatty acids that the skin can easily absorb and process are ideal. Here oils that have a lot of unsaturated fatty acids are a little miracle weapon. These oils have a smoothing and firming effect on the skin. To improve the elasticity of mature skin, you can massage the oil in, for example with a Gua Sha stone. This improves blood circulation in the skin and stimulates the lymph, which can also have a firming and rejuvenating effect. You can also massage with a dry brush before using the body oil.
We recommend the following oil:

Organic almond oil cold pressed
Organic sesame oil cold pressed
Organic hemp oil cold pressed
Organic pumpkin seed oil cold pressed
Organic sea buckthorn pulp oil
Organic poppy seed oil cold pressed
Which body oil for dry skin?
Dry and even very dry skin is a sign of a weakened skin barrier. The barrier suffers from a high loss of moisture and the skin's protective mechanisms do not function adequately. Therefore, the ultimate goal for this skin condition is to sufficiently hydrate the skin and rebuild the skin barrier in the long term. Once the skin barrier is back in tact and the factors that led to this condition have disappeared, the skin can carry out its work normally again.
Unfortunately, some factors such as allergies, intolerances, hormonal imbalances or even wind and weather cannot be completely eliminated, so care aimed at building up the skin barrier is always a good strategy.

Body oils are ideal here. If the skin is still very dry at the beginning, the oil can be massaged onto the wet skin. When rubbed, a kind of emulsion is created and the skin receives moisture from the outside. You can also mix a small amount of moisturizer into the body oil to add more moisture to the skin. Over time, the skin barrier becomes stronger and moisture loss reduces, then you can switch to a pure body oil. Or you can also apply the oil to dry skin.

A slightly richer oil is recommended as a body oil for drier skin. Our recommendations are:
Body Oil Organic Refreshing - Protective
Body oil organic regenerating - firming
Organic Body Oil Soothing - Restorative
Our oils absorb quickly because they contain an extract of olives and rapeseed, which opens the skin and ensures that the oil is completely absorbed by the skin after just a few minutes.