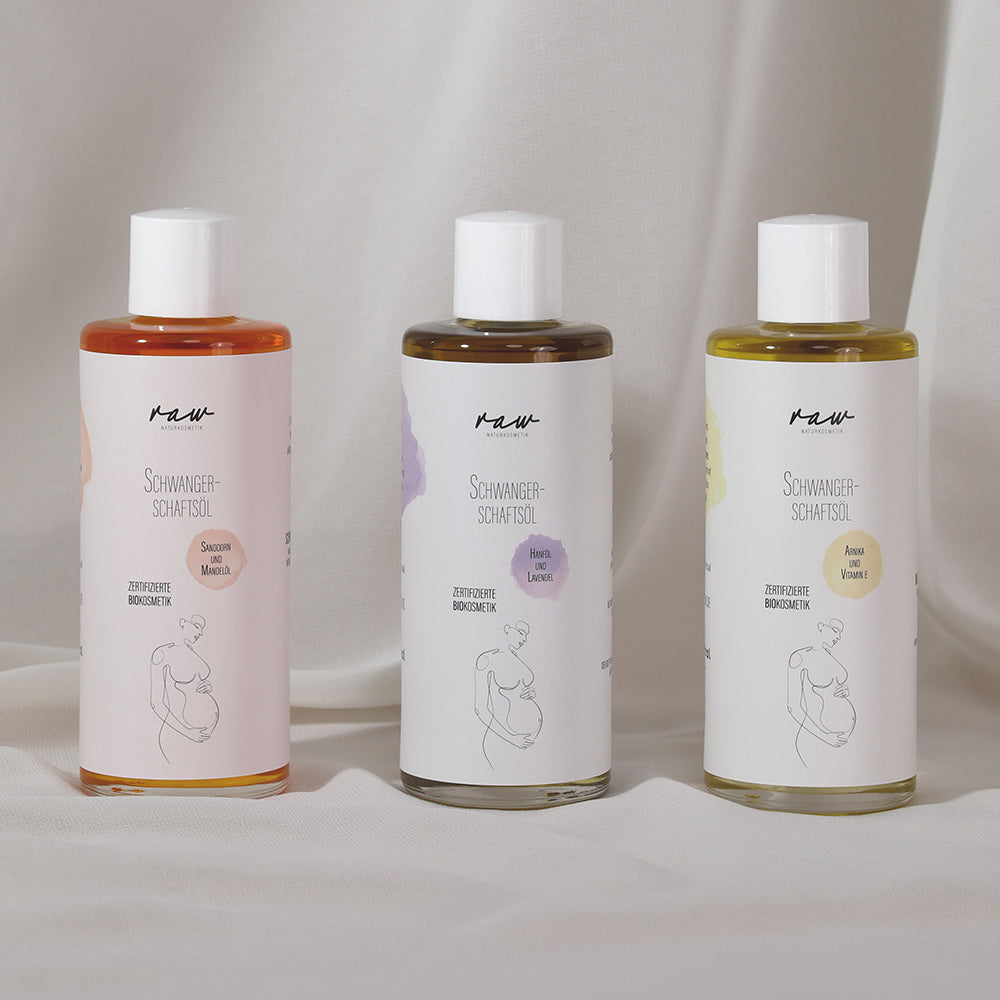 The organic pregnancy oils
Brand new in the range: our organic pregnancy oils (certified organic cosmetics). As a mother of two kids, our Liza knows this very special time in life very well. The idea of ​​the current products first arose during her first pregnancy because she couldn't tolerate anything with her sensitive skin and ended up making her own care products for herself. Now these "miracle weapons" from Liza are also available for other expectant mothers.
Of course, we also know how stressful pregnancy can be. With our new organic cosmetic oils we would like to do a small part to make you feel good during this time. It is just as important to us as it is to you that your body only comes into contact with high-quality things during pregnancy. That's why we have certified our pregnancy oils organic. For even more safety and quality for you and your child.
Here, too, we of course work with cold-pressed organic oils that are not heated above 40°C throughout the entire process. This means that all vitamins, minerals and essential fatty acids are still contained in the oil. These valuable oils nourish the skin and keep it supple. All three pregnancy oils have been tested and approved by external certification bodies. We work with the independent natural and organic cosmetics standard NATRUE. Strict rules are applied to products here in order to define exactly what organic cosmetics means.
During Liza's pregnancies there were different areas of application for which she used different oil mixtures. Since we wanted to keep the effect and use of the raw materials exactly in the composition, three different organic pregnancy oils were created.
ORGANIC PREGNANCY OIL SEA BACKTHORN / ALMOND OIL
intensively nourishes the skin and can prevent stretch marks
helps with nausea (the scent of blood orange can help)
Scent: Fruity, fresh orange scent with a sea buckthorn note
ORGANIC PREGNANCY OIL LAVENDER / HEMP
calms inner restlessness and provides security
Hemp helps the skin to regenerate and rebuild itself
Scent: Warm summer evening in Provence, lavender with earthy hemp tone
ORGANIC PREGNANCY OIL ARNICA
Helps with painful skin and joints
Promotes blood circulation and can thus counteract venous weakness
Scent: Fresh, slightly fruity lemons with warm vanilla - reminiscent of coconut
You can of course also test our organic pregnancy oils here for free. We very much hope that we can play a small part in making you feel comfortable during your pregnancy.