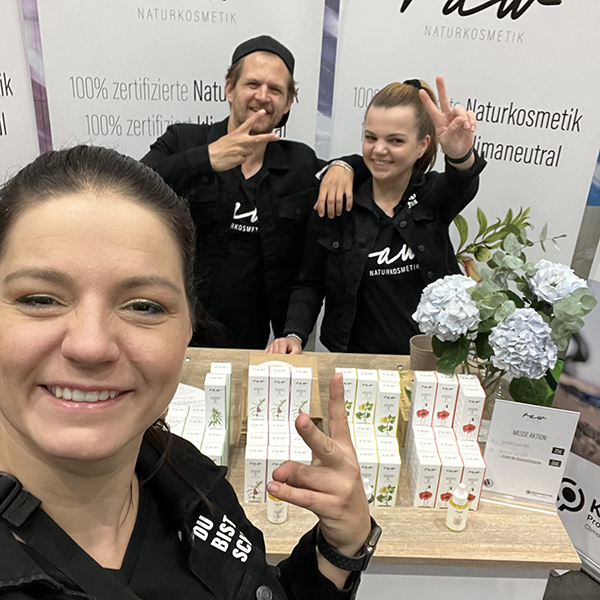 From February to August 😁
Like most people, time is running out for us and a lot has happened since our "starting signal" in February. Sometimes we're surprised that we've only been on the market since February, we can tell you, it feels like we've never done anything else. And that's a great feeling. At this point we would like to thank everyone who has supported us on our journey so far. We didn't think we would get so much positive feedback so quickly. You are already the best customers in the world 😁
After we went online with our website in February, the goal was to give as many people as possible the opportunity to test our facial oils. Because we also noticed very quickly that those who test our oils are usually enthusiastic about them. On the one hand, we were able to do this through our "friendly" company that helps us a lot, namely the natural food company Seitenbacher . On the other hand, we were on tour in Germany: FIBO in Cologne, Heroes' Market in Hamburg, Gartenromantik in Wertheim, SWR Summer Festival Stuttgart and so on... We got around a lot and were able to meet a lot of nice people here too.
Since the beginning of August we have had five new products in our range: organic pregnancy oils , eye roll-on Q10 and black cumin cream . There is an incredible amount of passion and know-how in everyone. Each product is unique in its effect and will hopefully be as well received as our four facial oils. For the first time we also have certified organic cosmetics here. The three pregnancy oils are certified organic by NATRUE because we feel that even greater safety of the products is particularly important for expectant mothers.
In the coming weeks we will now concentrate on selling our products. We are currently in discussions with potential partners and are really looking forward to everything that may come next. We also work on developing new products in our laboratory. As soon as we have something ready, we will inform you here. But if you have any ideas, wishes or suggestions - please let us know!